If we ask an ordinary person who knows about nuclear energy, many will say: nuclear energy serves to produce electricity and to make nuclear bombs, and it is very dangerous, since it produces highly toxic radioactive wastes that last thousands of years, and producing horrible cancer and genetic mutations.  Being able to say that nuclear energy is malign, cheap but malignant energy. Is this true? Who gave us this information?
Citizens know, is what we have been taught in schools and in the media, and we have proven in our lives, that they have taught us a mixture of true information, wrong information and in some cases they have taught us lies to take advantage of our ignorance.
To start our analysis, let's see this video and photos
The previous video was produced by the army of the United States at the time of the cold war (1957), with the purpose of spreading it, if a nuclear war was produced, to take away the fear of the population from nuclear bombs, the five subjects the cameraman died at old age (86, 83, 71, 78, 91 y 84).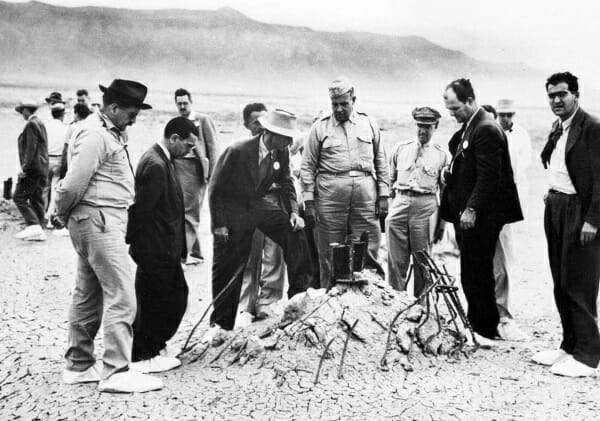 If the nuclear radiation is so dangerous, how is it that the 5 soldiers of the video agree to participate in a suicide test? How is it that they allowed the press and high level military personnel to expose themselves to radioactive contamination, precisely at the point where did the first nuclear bomb explode 3 months ago? How did they allow hundreds of North American soldiers to expose themselves to the danger of being so close to a nuclear explosion?
Yes we answer saying, that the products of the Manhattan project on the site Hanford, if we respond saying that the products of the Manhattan project on the site, did not know about the effects of nuclear radiation on humans, we would be talking about their ignorance, they produced thousands of deaths from cancer, not only to these soldiers, but also to the thousands of people who worked with them on the Hanford site, and their children would have genetic defects. Where are the thousands of cancer deaths and the thousands of children with congenital defects? Did they hide the corpses and erase the records?
We have three possible explanations:
Nuclear radiation is not as dangerous as we have been taught.
The nuclear bomb does not exist (there are people who believe that).
Nuclear radiation is super dangerous, but they hid the corpses.
What do the people with direct experience tell us, who worked from the start in the nuclear reactors of the Hanford site where the atomic bomb was produced?
You can see another video of Galen Winsor here.
Galen Winsor died due to natural causes in 2008 at 84 years old, worked at the Manhattan Project facilities in Hanford, Washington; National Laboratories and at the Oak Ridge nuclear power plant in Oak Ridge, Tennessee; General Electric nuclear fuel recovery plant Midwestern in Morris, Illinois; General Electric nuclear fuel manufacturing plant in San Jose, California and Wilmington, North Carolina; and has worked on all the major nuclear reactor dismantling projects in the USA.
After listening to these two experts, we can conclude:
Nuclear radiation is only dangerous at extremely high levels.
The nuclear bomb exists.
There is a conspiracy between governments, electric power companies and oil companies to maintain a campaign of terror against nuclear energy and to continue to charge high prices for energy to citizens.
Galen Winsor "If nuclear energy were developed as it should be, the price of electricity would be so low, that it would not be worth measuring, only a small fixed monthly fee would be paid"
This great revelation leaves us many more questions to answer, and nuclear accidents?
What happened at Chernobyl, Fukushima and Three Mile Island?
In Chernobyl 31 people died in total, all during the explosion of the plant or by direct exposure to the active nucleus of the nuclear reactor, no one died by radiation outside the plant, and of the 134 people who received lethal doses of radiation inside the plant, only 28 died of radiation, the other 106 that have been dying at the same death rate as the population of their countries. And Chernobyl is today a refuge for wildlife, where plants and animals thrive in abundance, without any strange mutations or genetic defects.
In Fukushima, no one died of radiation, but 1,605 people died due to the effects of psycho-terror on radiation. Today Fukushima also became a paradise for wildlife.
Three Mile Island, another accident without deaths or injuries, or carcinogenic effects or birth mutations in the population. Which this produced was an increase in the electricity tariff for citizens and an expenditure of more than a trillion dollars that enriched a few.
Pictures of the islands where the nuclear tests were made the photos of the islands show abundance of wildlife, without mutations, without new species, or monsters, or godzilla, or cancer. The same phenomenon of abundance of wildlife occurs in Chernobyl and Fukushima.
More details in the doctor Jane Orient's Work.
What does the scientific and medical community say?
The nuclear radiation values established today, as dangerous for the human being, come from political pressure in the 1950s to impose the work presented by Hermann J. Muller in 1946, which said that the effects of nuclear radiation are cumulative in the living beings, and therefore, even the lowest levels are dangerous. Many scientists objected, because although it is true that nuclear radiation damages cells, the cells have repair mechanisms because they are living biological organisms.  The verification is as simple as observing that there are places on planet earth, where humans have lived for thousands of years, which have up to 10 times the maximum acceptable radiation according to Muller, without presenting significant variations of cancer or congenital defects in comparison to the rest of the country, such is the case of Guarapari, Brazil; Kerala, India; Ramsar, Iran; Yangjiang, China.
The explanation of this discrepancy is obvious, a government – energetic corporations conspiracy. To impose a psycho terror on the world population and get rich in the process.
In fact, there are many scientific works demonstrating that small doses of radiation are beneficial.  and Bernard L. Cohen, professor of physics at the University of Pittsburgh, made the largest and most comprehensive study of the effects of nuclear radiation and cancer, compared radon exposure rates and lung cancer in 1,729 counties covering 90 percent of the population from the EE. UU. His study in the 90's decade, found far fewer cases of lung cancer in those counties with the highest amounts of radon.
Experiments of nuclear radiation in humans
De 1940 a 1970, para el tratamiento de la otitis serosa se utilizo la radiación nuclear, mediante la introducción de una capsula radiactiva en la nariz, este tratamiento se conocía con el nombre de NRI, y fue un tratamiento simple y efectivo, que dejo de utilizarse debido al psico terror a la radiación. Ahora se usan tratamientos menos efectivos usando antibióticos, fármacos y operaciones quirúrgicas.  Diversos países hicieron el seguimiento a los pacientes que recibieron este tratamiento para determinar si producía cancer, resultando que no había diferencia con el resto de la población del país.
En 1970 por error, un complejo de apartamentos en Taiwan fue construido con cobalto 60, un elemento radiactivo, diez años después fue descubierto el error, y por diez años mas se hizo el seguimiento a sus habitantes, para comprobar los efectos de la radiación produciendo cancer y defectos genéticos, los resultados fueron sorprendentes, la tasa de cancer resulto ser 20 veces menos y la tasa de defectos genéticos fue 15 veces menos, del resto de la población de Taiwan.  Indicando que ciertos niveles de radiación son beneficiosos para el ser humano, al activar el sistema inmunológico del cuerpo humano y de reparación de las células.
Otros Mitos de la Energía Nuclear
Un reactor nuclear funciona como una bomba nuclear.   Falso, un reactor nuclear quema el material radiactivo lentamente liberando un calor constante, una bomba nuclear explota el material radiactivo para que libere su energía de forma instantánea, produciendo una gran destrucción.
Los reactores nucleares pueden a explotar en cualquier momento. Falso, los reactores tradicionales funcionan con agua y por lo tanto son de baja temperatura, fueron diseñados para producir plutonio, armas nucleares y los mal llamados "desechos radiactivos".  Funcionan como una olla a presión gigante, y son tan peligrosos como cualquier olla a presión (las ollas a presión son peligrosas).  Hay diseños de reactores nucleares, que no usan agua, no son una olla a presión, no tienen alta presión y por lo tanto no pueden explotar.
Solo algunos elementos químicos son radiactivos. Falso, todos los elementos químicos son radiactivos, algunos isotopos son mucho mas radiactivos que otros, por ejemplo el potasio 40 es mucho mas radiactivo que el potasio 39, y es lo que hace a las bananas comunes radiactivos.  y como hemos descrito en este articulo, las bananas no representan un peligro para la salud.
La radiación nuclear, es el proceso normal de desintegración que le ocurre a toda la materia, algunos isotopos se desintegran mas rápidamente que otros.
Los reactores nucleares producen desechos radiactivos, materiales altamente tóxicos. Falso, los reactores nucleares producen elementos químicos de alto valor, que sirven tanto en aplicaciones medicas, como en aparatos especializados como los detectores de humo, esterilizadores de material medico, y ademas son combustible para reactores nucleares de alta temperatura (800º C.), que lo queman todo y duran 20 años sin re abastecer combustible, en comparación con los reactores de baja temperatura que requieren re abastecimiento cada 2 años.   Estos llamados "desechos" tienen un altísimo valor por gramo en el mercado, que supera los miles de dolares por gramo.
Los reactores nucleares son una construcción humana, que no existen en la naturaleza. Falso, se han descubierto 16 reactores nucleares naturales en el planeta tierra, el mas famoso en Oklo, Gabon. y en ellos se han producido los mal llamados "desechos radiactivos" que como es de esperarse, casi no existen ya que se han desintegrado por ser radiactivos.
Los reactores nucleares buenos son los de fusion, y los malignos son los de fisión. Falso, en el reactor de fusión queremos fusionar un átomo de un proton (hidrógeno) con otro átomo de un proton (hidrógeno) para obtener un átomo de dos protónes (helio).  En el reactor nuclear tradicional, queremos dividir (fisión) el átomo de 92 protones (uranio), obtenemos átomos con una menor cantidad de protones como el cesio (55 protones) por fisión de uranio, pero también obtenemos átomos de más protones (como el plutonio que tiene 94 protones), por fusión de uranio con un alfa. Esta es la razón por la que el reactor nuclear tradicional se llama reactor nuclear y no reactor de fisión. La confusión se origina en que queremos producir fisión pero obtenemos fisión y fusión. Sin la fusión no podemos producir átomos mas grandes (plutonio 94) a partir de átomos mas pequeños (uranio 92).  Nota: alfa es otro nombre que se le da al átomo de helio especial (un átomo de dos protones).
Las bombas nucleares dan paz en el mundo, y permite a los países con bombas atómicas de ganar cualquier guerra.  Falso, siguen existiendo muchas guerras en todo el mundo, sin contar la violencia por el crimen común. Y USA perdió la guerra de Vietnam en 1970.
Gracias a las bombas nucleares lanzadas en Japón, se termino la segunda guerra mundial en Japón. Falso, la segunda guerra mundial se termino en Japón debido a que Russia dejo de ser neutral con Japón. Pocos días después de que Russia invadió Japón, Japón se rindió.  Las dos bombas nucleares lanzadas en japón sirvieron de excusa para la rendición de Japón ante una guerra en dos frentes, USA por un lado y Rusia en el otro. Recordemos también que pocos meses antes de estos acontecimientos USA le dio no solo material nuclear a Russia, sino que también le enseño como construir la bomba atómica.  Una bomba nuclear destruye una ciudad, pero no destruye un ejercito y mientras exista ejercito la guerra puede continuar.
Una guerra nuclear podría acabar con la vida en el planeta tierra. Falso, un terremoto nivel 7 ó la erupción de un volcán ó un huracán de categoría 3 tienen la energía de 1.000 bombas atómicas.  Si sumáramos el poder destructivo de todas las bombas atómicas en el mundo, aún así, no podríamos alcanzar el poder de un solo terremoto nivel 9, o de un super volcán, que es equivalente a 100.000 bombas atómicas.  Claro, una guerra con bombas nucleares destruiría ciudades, morirían millones de civiles, pero no terminaría una guerra ni acabaría con la vida en el planeta.
La energía nuclear es un recurso limitado. Falso, sin contar la extracción de uranio de las minas terrestres, podemos extraer uranio del agua de mar de forma barata y tendríamos uranio para producir energía por 100.000 años.
¿De que me sirve toda esta nueva información?
Disminuir el pago de electricidad x 10.  Se estima en 2 centavos de dolar o menos el kilovatio, (actualmente se paga de 12 a 30 centavos).
Aviones que no necesitan recargar combustible en 20 años. con mayor espacio libre, ya que la mitad del peso de un avión al despegar es el peso del combustible.
Barcos que no necesitan recargar combustible en 20 años, con mayor capacidad libre, ya que un reactor nuclear para un barco es 1/3 del tamaño actual del motor de combustion que poseen y sin necesidad de gigantescos tanques de combustible. y el doble de rápidos.
Trenes de alta velocidad que no necesitan recargan combustible en 20 años.
Tarifas de transporte de personas y mercancía a muy bajo costo y mas rápido.
Disminución del costo de producción de todos los productos, desde teléfonos, neveras, hasta carros y casas, ya que el principal costo de producción es energético.
Aumento de los empleos locales con la producción local de energía. Disminución de la importación de combustibles y del financiamiento de guerras por recursos.
Fabricación de combustibles fósiles usando el calor de la energía nuclear y extrayendo CO2 del aire y agua de mar. Permitiendo cerrar el ciclo del CO2.
Que puedo hacer para hacer esto 
Subscríbete a nuestra lista de correo, para estar informado de nuestros avances.
Comparte este artículo con tus familiares y amigos.
Apoyanos económicamente para diseminar esta información y hacer de la energía barata una realidad.
Conclusion
Hemos sido engañados por un complot gobierno – corporación, que ha implantado ideas equivocadas en nuestra mente al repetir mil veces una mentira, todo ello con el fin de mantener un cartel con altos precios de la energía.  Pero los tiempos han cambiado, y la contaminación y la competencia global entre China USA y Europa, nos esta llevando al retorno al desarrollo de la energía nuclear como una fuente energética abundante, limpia y de muy bajo costo.
Artículos similares al nuestro, ya tienen tiempo siendo publicados, también documentales europeos con este mismo mensaje han salido a la luz, y el reciente anuncio de la agencia gubernamental de USA EPA, esta tímidamente apareciendo en los medios.